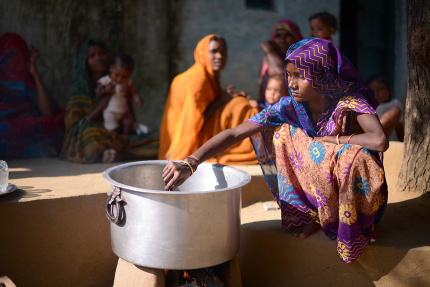 Reinforcing and developping new skills
Training is essential for the families we work with to develop new skills and thus better understand the climatic and economic changes they face. We organize trainings in agro-ecology (permaculture), spice and condiment manufacturing, water management, hygiene and health practices, accounting, leadership & entrepreneurship, to provide a wide variety of skills. With no access to information, the recipients of these instructions are eager to acquire the knowledge that will help them adapt to new challenges.
We have facilitated and encouraged more than 1,000 trainings, community meetings and awareness campaigns in less than 10 years of activity.

I allow a group of women to develop their micro-enterprises
50€/month
17€/month after tax deduction
Donate today
Testimony of farmers Ramdas Maske, Pradip Shenge, Sambaji Kendre, Dilip Shendage and Anil Kendre, about our trainings
The Rain Drop trainings made us aware of the need to tackle the water problem, and to think about our agricultural management. For a long time we cultivated the same thing every year, now we realize that it was not beneficial. The sensitizations also allowed us to accept the basins: previously we considered that they would take the place of cultivable land and would make us lose money.
Discover all of our actions in India here